After enjoying the buzz of the city, head for the tranquility of Loch Lomond and take in the sea air on the stunning west coast
Glasgow, the UK's top creative and cultural city has ample opportunity for art lovers to explore galleries, museums and street art to their hearts' content, along with a packed calendar of events and concerts and some brilliant places to eat.
This is a great short break itinerary which works as a long weekend if you're pushed for time. Equally, it can be easily extended by spending longer in the city, by heading further into the Highlands after Oban, or even by heading out on a ferry from this west coast hub to enjoy some peace on the islands of the Inner Hebrides.
Today you'll land in Scotland's second city and start to take in the huge array of sights and attractions on offer in Glasgow.
You can fly into Glasgow's international airport, and from there it's a short bus transfer into the city centre. If you're driving yourself or hiring a chauffeur for this trip, you'll be met from your flight and shown to your vehicle.
You can also take the train to Glasgow, with connections possible from across the UK. Most will arrive into Glasgow Central station, which is already right in the heart of the city's busy shopping district.
Our guide to Glasgow should help you decide how to spend your time, and here are some of our favourite options: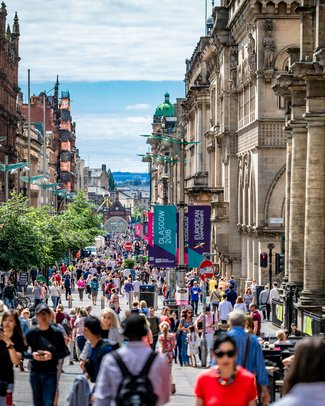 Day 2 - Glasgow to Oban via Loch Lomond
After exploring more of Glasgow, today you'll leave the city and head for the beautiful countryside of the West Highlands and eventually out to the west coast.
If you're driving, you'll find it's a beautiful 2.5hr drive out to Oban from the city along the bonnie banks of Loch Lomond. You won't want to rush this journey - make sure you take plenty of time to stop off and drink in the views in this spectacular and famous area of Scotland. As you head into the hills and the village of Tyndrum, why not stop off for a bite to eat at the brilliant Real Food Cafe?
This itinerary is also possible entirely by public transport, and the West Highland Mainline from Glasgow to Oban is undoubtedly one of the most spectacular train journeys in the world.
2.5hrs (3hrs by train)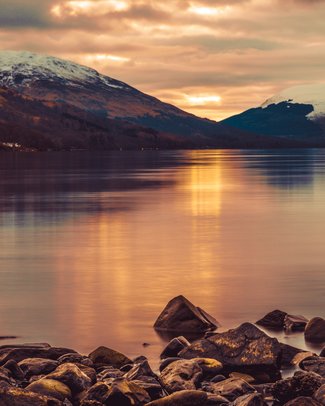 Day 3 - West Coast and Highlands
Oban is a beautiful west coast seaside town, often known as the 'gateway to the isles' as it's the main jumping off point for the islands of the Inner Hebrides, and also has connections out to Barra and the Outer Hebrides.
As well as being in a great coastal location, Oban is also very well-placed for accessing the Highlands. You certainly won't regret spending a second night here to give you enough time to explore.
Check our our destination guide to Oban for some inspiration, or review the highlights below:
Visit Oban distillery for a tour or tasting
Walk up to McCaig's Tower to enjoy sweeping views of the nearby islands
Take the short foot passenger ferry to the Isle of Kerrera for a walk
Have fresh seafood for lunch at Ee-Usk on the north pier
Take a boat trip to visit the seal colony
Drive up to nearby Glencoe or Fort William (the latter also possible by public transport) and take a hike in the Highlands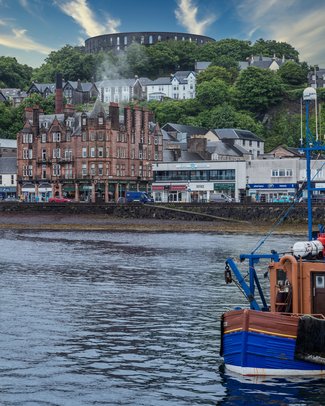 Day 4 - Last day
Today you'll head back to Glasgow.
You can either retrace your steps and take another opportunity to admire the views of Loch Lomond, or for a change of scene you can travel via the pretty town of Inverary on the shores of Loch Fyne and head up into the mountains over the Rest And Be Thankful pass.
Whichever route you choose, you'll find yourself quickly back in the city. If you're flying out, head straight for the airport to drop off your car, or if you're taking the train home, Glasgow Central will be your aiming point.
We hope it won't be long before you return to Scotland again!