The South West Coastal 300 is a stunningly scenic 300-mile road trip around the south-west of Scotland.
From rolling hills and forests to magical coasts and lochs, the beauty of south-west Scotland will captivate you from the moment you arrive.
The South West Coastal 300 works really well as a road trip if you're coming north from England (just turn off the motorway at Gretna Green, right on the Scottish border) - or you can start at Glasgow. If you're visiting from England, then why not bring your own car? Or, if you prefer, we can arrange car hire for you from Glasgow Airport.
Day 1 - The Nith Valley
Overnight in:
The Nith Valley
Whether you're starting from Glasgow or from the English border at Gretna Green, the first day is just a short drive to the edge of the Galloway Forest Park. This area of hills and glens in the south-west of Scotland might not be quite as large as the Highlands, but the landscape is every bit as spectacular.
Stay overnight on a beautifully secluded rural estate in the Nith Valley, north of Dumfries.
Highlights
Crawick Multiverse - this land art installation opened in 2015 and is a one of a kind park and work of art, created by the artist Charles Jencks. Whether you're interested in cosmology, science or art - or just want to go for a walk - this is definitely worth a visit.
Sanquhar - this small market town in the Nith Valley is surrounded by striking scenery. Sanquhar is home to the oldest post office in the world, which has been open since 1712 (it's still a working post-office - the perfect place to send a postcard home)! It's also worth visiting the Tolbooth Museum to learn more about local history.
Wanlockhead - surprisingly, Scotland's highest village isn't in the Highlands - it's here in the south-west. This former lead mining village near the Mennock pass is at an altitude of 467 metres. The Museum of Lead Mining tells the story of this historic local industry and gives you the chance to go inside a former working mine.
Gold panning - gold can be found in many parts of Scotland - there's even a working mine near Crianlarich. The area around Leadhills and Wanlockhead has been a popular place for gold panning for centuries and the annual Gold Panning Championships are held here every year. There are a couple of options for having a go yourself - let us know if you'd like to try, and we'll organise it for you.
Leadhills and Wanlockhead Railway - this narrow-gauge railway is a great activity whatever the weather.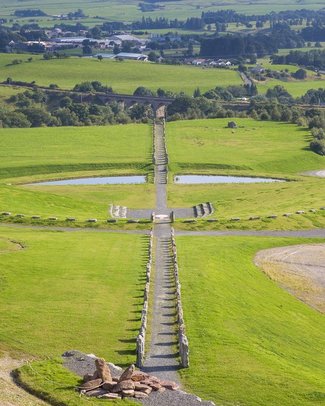 Day 2 - Explore the Nith Valley
Overnight in:
The Nith Valley
A whole day to explore the area around the Nith Valley, the eastern side of the Galloway Forest Park and the town of Dumfries.
Highlights
Annandale Distillery - the south-west of Scotland may not be the first place you think of when it comes to whisky, but there are some very old and respected distilleries here.
Moat Brae - a restored Georgian house which inspired the stories of Peter Pan.
Sweetheart Abbey - a dramatic 700-year-old ruined abbey church.
Drumlanrig Castle - Set on the spectacular 80,000 acre Queensberry Estate, complete with Country Park and Victorian Gardens, Drumlanrig Castle presents one of the finest examples of late 17th century Renaissance architecture in Scotland and an internationally-renowned art collection.
Caerlaverock Castle - with its moat, twin-towered gatehouse and imposing battlements, this awe-inspiring castle is the epitome of the medieval stronghold and one of the finest castles in Scotland. Right next door is the Caerlaverock Wetland Centre, which has a huge variety of visiting birds, especially in winter.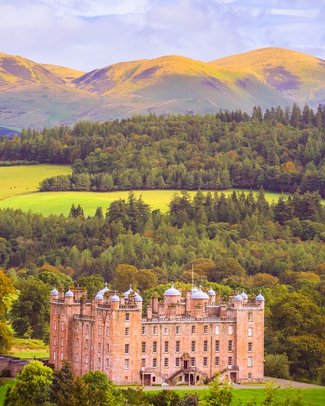 Day 3 - The Galloway Coast
Overnight in:
Portpatrick
Today, you'll drive along the south coast of the Galloway peninsula, passing picturesque fishing villages, beautiful sea coves and dramatic cliffs. After some wonderful food, you'll fall asleep to the sound of the sea!
Highlights
Kirkcudbright - this pretty harbour town has been attracting painters and sculptors for over 100 years and is known as Scotland's Artists' Town. First-time visitors are sometimes a bit puzzled - despite the spelling, it's pronounced Ker-koo-bree.
Wigtown-Scotland's National Book Town is home to a wide range of book-related businesses. With over a quarter of a million books to choose from it's impossible to escape empty-handed.
Whithorn - this small village has some of the richest history anywhere in Scotland. St Ninian, Scotland's first saint, brought Christianity to Scotland in 397 and died in Whithorn in 431.
Bladnoch Distillery - a must-visit for whisky lovers, the southern-most distillery in Scotland dates back to 1817. Their single malts are some of the best examples of the lowland style.
Crafty Distillery - if you prefer gin to whisky, then this is the place for you! One of the few gin distilleries that makes its own base spirit, this is one of our favourite gins - and they run an excellent distillery tour which we highly recommend.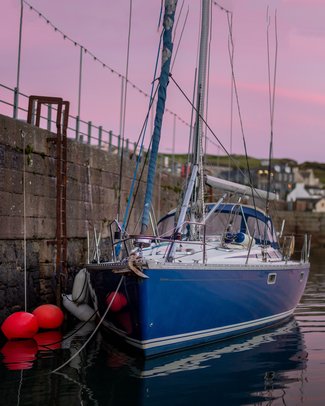 Day 4 - The Rhins of Galloway
Overnight in:
Portpatrick
A full day to explore the Rhins of Galloway (the twin peninsulas stretching north and south at the far end of Galloway peninsular). With its mild oceanic climate, this area has some amazing gardens and a wonderfully varied history.
Highlights
The Mull of Galloway Lighthouse and nature reserve, at the southernmost point in Scotland - climb all 115 steps to the top of the lighthouse and be rewarded with spectacular views of Scotland, Ireland, the Isle of Man and Cumbria. The cafe is also wonderful.
Logan Botanic Garden - take a walk in paradise and discover plants rarely seen in the UK. We can also arrange private horticultural tours.
Castle Kennedy Gardens - one of Scotland's best-known gardens, they also run Landrover safaris exploring the natural beauty of the surrounding hills and moorland.
Glenwhan Gardens - 103 acres of "wild garden" with views of the huge beach at Luce Bay.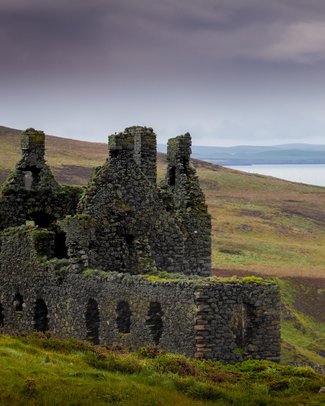 No, that's not a typo - Ayrshire is one of the best golf destinations in the world! There are nearly 50 courses to choose from, including five of the UK's top 100 courses and three Open Championship venues.
Golfers and non-golfers alike will find plenty to see and do here.
Highlights
Culzean Castle - this magnificent clifftop castle has everything you could wish for in a country estate: opulent interiors, magnificent gardens, dramatic parks and coastline and lots to see and do for the whole family.
The Scottish Dark Sky Observatory - this publicly accessible observatory has some of the darkest skies in the UK and boasts two large telescopes with which to view the night sky. The observatory is in the middle of the first Dark Sky Park in Europe and has been awarded Gold-Tier status by the International Dark-Sky Association. All visits need to be pre-booked - we can, of course, arrange this for you.
Day 6 - Last Day
On your last day, there should still be time to visit a couple more sights before you head home.
Highlights
Robert Burns' Birthplace Museum - visit the humble cottage in Alloway where Robert Burns was born and spent the first years of his life. Burns is Scotland's National Bard, and his poetry and songs are known and loved all over the world.
Dumfries House - this stunning estate and 18th Century house has something for everyone - from the world-class collection of Chippendale furniture, the walled gardens and the excellent Woodlands Restaurant to an adventure playground and education farm for the kids. We can also arrange private tours of the house and gardens.