If the idea of having a beautiful building all to yourself appeals, look no further than these incredible exclusive use properties in Scotland.
There are many wonderful hotels and B&Bs in Scotland, but many people overlook the option of exclusive use properties when planning their holiday. Have you considered having a place all of your own - a home away from home - whilst you're on your luxury Scottish holiday?
Here are some of our favourites to help inspire your next trip.
Here at The Tartan Road, we design bespoke luxury holidays in Scotland. We're passionate about this small country, and we think it's one of the best places in the world to go on vacation.
Sitting on the shore of Loch Creran with views to die for, Seabank House at South Shian is an oasis of calm, but still within easy reach of the bustling seaside town of Oban.
You'll feel at home as soon as you walk in the door. With high-end finishings throughout, the house has it all - cosy, private-feeling bedrooms, three bathrooms (one en-suite) and generous communal living space which makes the most of the loch and mountain views. Outside, you'll find a hot-tub and a 130-acre estate to explore, with walks to take in more of those spectacular views.
Other local activities to enjoy right on your doorstep include water sports, wild swimming, cycling and mountain biking.
Dogs are very welcome at Seabank House, so you don't need to leave your furry friend behind. The friendly owners will ensure a wonderful welcome, and the thoughtful touches throughout will make you want to keep coming back.
Seabank House can accommodate up to 10 guests in 6 bedrooms, and is available for stays from 3 nights.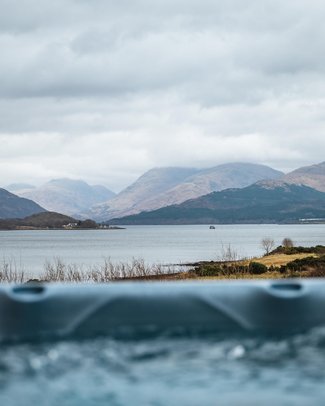 Located in Kilmartin Glen, which is home to one of the most exciting collections of neolithic ruins in Europe, Kilmartin Castle is a beautiful, quintessentially Scottish castle.
Saved from ruin and lovingly restored by owners Stef and Simon, the castle feels luxurious, loved and lived-in. The bedrooms are all individually designed and have a cosy, homely feel, whilst the communal spaces are quirky, fun and well-equipped for cooking, enjoying a meal and relaxing together as a group. If you would prefer not to cook, a private chef can be arranged to cover all or part of your stay.
The castle has its own organic kitchen garden, which guests are welcome to use during their stay, and a sociable and fun outdoor dining space with barbecue, pizza oven and fire pit. There's also a wild swimming pond for those feeling brave!
Dogs are welcome when the castle is booked for exclusive use, and they'll get their own bed too!
Kilmartin Castle can accommodate up to 10 guests in 5 bedrooms, and is available for stays from 1 night.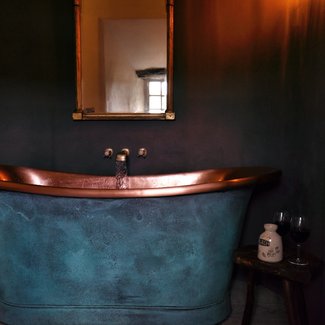 Emily Sandifer
Mingary Castle, on the stunning Ardnamurchan peninsula, is a hidden treasure that offers an authentic castle stay experience.
This award-winning restaurant with rooms, looking across the water to the Isle of Mull , provides a sense of seclusion like no other.
Chef Patron Colin Nicholson offers an unforgettable culinary experience using the best locally sourced produce and forged ingredients. Explore the surrounding landscapes, and take leisurely walks along the coastline.
Mingary Castle invites you to embark on a journey of discovery and reconnect with nature, promising an unforgettable and authentic Scottish castle adventure.
Mingary Castle can accommodate up to 10 adults across 4 suites, with additional beds available for children if required.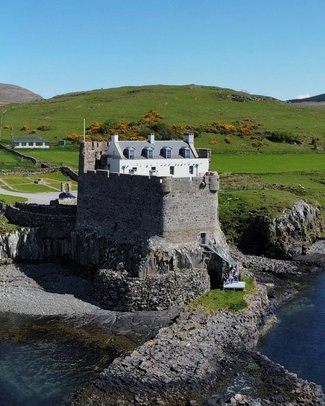 Located just down the road from golfing hotspot St Andrews, Hawkswood Country Estate sits in the fife countryside in the Hamlet of Peat Inn.
Golf fans will be in their element, with St Andrews just a short drive away. There are a range of private short-game areas on the estate itself, as well as a 270-yard driving range, so you can get plenty of practice in between games as well.
There's plenty to do here besides golf, though - you'll find a hydro spa, lovely grounds to walk in and ample space to relax and entertain.
The Estates has 3 properties - Hawkswood House (10 bedrooms), The Roundel (10 bedrooms) and Bowhill House (5 bedrooms). All bedrooms have their own private bathrooms. The properties can be rented separately or together, accommodating a total of 10 to 30 people.
Private chefs and housekeeping staff can be arranged for your stay, or if you don't want to dine in every night, Hawkswood Country Estate is within walking distance of The Peat Inn, one of Scotland's best fine dining restaurants.
Hawkswood Country Estate sleeps up to 30 people across 15 bedrooms and 3 properties, and is available for stays from 2 nights.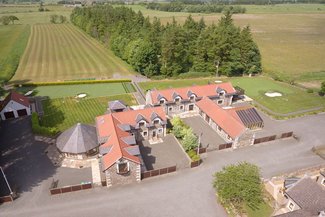 Susan Reid Collection