Scotland is home to an impressive range of luxury hotels. Each has its own unique character, history and relationship to its surroundings. From ancient castles providing comfort in a wild landscape, to modern hubs at the heart of city life, Scotland's thriving industry offers you the best in luxury hospitality.
The great variety of experiences available means there will be something to suit everyone's tastes and budget. Whether you're looking for spas and five-star dining or simple and understated quality, for the chance to splash out or take advantage of an off-season bargain.
Your stay in one of these 5-star venues will let you sample the best of Scotland. Natural beauty, cultural heritage and unforgettable dining and activities are brought together under one roof to give you a stunning home away from home. 
Though Scotland has seen a lot of change throughout its long history, so much remains unspoiled in both tradition and landscape. From historic architecture to the unchanging practices that produce the finest in food and whisky, the best of the past is here to stay. These luxury hotels offer all the true Scottish charm you are hoping for. The time-honoured value placed on a warm welcome can still be felt here.
On this page we'll show you a taste of what is on offer, and perhaps give you some inspiration to start planning your own luxury Scottish adventure.
Here at The Tartan Road, we work with you to create the perfect bespoke trip. We combine your own wishes with our expertise. We'll connect you to the places, opportunities and people who make our home the perfect destination. 
Luxury Hotels in Highland Scenery
While 5-star hotels can be found throughout Scotland, there's no denying that those with the most breathtaking surroundings are found in the Highlands. Spanning a huge area, the Highlands are a dreamscape of brooding, sheer mountain faces and glens with deep lochs and woodland. You'll find a significant number of Scotland's castle retreats standing proud in this landscape, overlooking many of the region's finest features. 
Our first example is the magnificent Glencoe House. True to its name, this beautiful mansion is set in one of the most famous Highland landscapes. Glencoe has a fascinating and at times bloody history, and has been captured in poetry and songs. 
The house itself was built in 1896 by Lord Strathcona. Its grand architecture and stone walls present your bedroom windows to the spectacular features of the glen. There are a wealth of opportunities for hiking, climbing, and even skiing and water sports. 
Return to the hotel for in-suite private dining, perfect for couples, or socialise in the Great Hall. The mansion is surrounded by 10 acres of private gardens and woodland, with lily ponds and trees over a century old.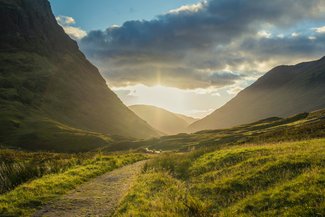 Our next irresistible example is Inverlochy Castle. This stunning place once hosted Queen Victoria for a week, who wrote of her experience "I never saw a lovelier or more romantic spot." 
The castle sits in the foothills of Ben Nevis, the highest mountain in the UK, and looks out onto Glen Nevis and its natural treasures. Considered one of the most beautiful glacier-carved valleys in the UK, there is so much to explore. Waterfalls such as the Steall Falls and Lower Falls provide spectacular sights, where mountain springs rush to the sea. 
You wouldn't believe that this wild setting, known as the Outdoor Capital of the UK, is not far from Fort William, the largest town in the Highlands. With the experts at Inverlochy Castle, you can plan trips that will take you far from the tourist tracks. 
Wildlife tours can bring you up close to wild deer and eagles, or specialist guides will lead you to scenic highlights. They can take you part of the way, so you can reach the most inaccessible places with the energy to still take it all in.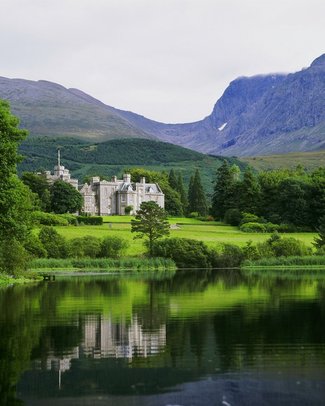 Hotels with Luxury Dining
All of the luxury hotels we mention in this article have exceptional dining experiences waiting for you. However, we can't resist highlighting a few truly special ones.

The Gleneagles Hotel rests in the verdant Perthshire countryside, and offers an extraordinary range of fine dining. The Strathearn is a glamorous Franco-Scottish restaurant offering traditional service with a flourish. By contrast the more casual Birnam is a vibrant Italian-American setting with authentic pasta dishes and grills.

Adding further variety, The Dormy is a family-friendly setting serving top-quality comfort food. It is well worth noting that in July and August, specified room packages at Gleneagles allow two children aged 14 or under to stay for free! Relax in the Dormy or head to the bright Garden Cafe for lighter refreshments. 
The jewel in Gleneagles' crown, however, is the unrivalled Andrew Fairlie restaurant. The only one in Scotland to boast 2 Michelin Stars, this luxurious find is renowned throughout Europe. It is supplied by the finest Scotland has to offer, with its very own Victorian walled-garden on site. Let the expert service staff take you through an unforgettable evening. 
Moving from the countryside to the city, The Balmoral is a spectacular hotel in the perfect spot in Edinburgh itself. It was awarded Hotel of the Year Scotland for 2022-23. With decadent suites, your stay here will put you at the heart of the many cultural highlights of the city. 
The hotel has a number of beautifully designed bars, stocked with some of the best selections in the city. In The Scotch, a whisky bar with a collection of over 500 varieties to choose from, you can taste examples from all over Scotland and the Isles. 
The Balmoral's dining room, Number One, is a distinctly contemporary restaurant. The award winning chef's team specialise in seasonal Scottish cuisine combined with great modern flair. Settle into the artfully designed space and enjoy a 7 course menu.

There are so many other fine dining experiences in this field for you to explore, to suit every taste and occasion. If you would like something truly special for an anniversary, honeymoon, celebration or family gathering, we can help you find the perfect choice.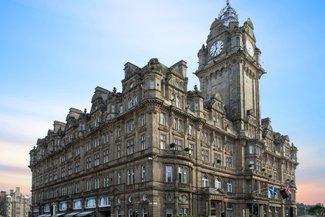 Luxury Resorts and Experiences
Our choice of examples now takes us to the East Coast, to the cliffs of Fife looking down to the North Sea. On this dramatic vantage point you'll find Fairmont St Andrews, an elegant manor hotel. Fairmont is a world-class golf resort with unmatched coastal views, and championship courses laid across 520 acres in the sea air. 
Retire to the renowned health and fitness spa to spend time in the tranquil pool, or enjoy any number of treatments, massages and skincare luxuries with ingredients from the Hebridean islands. There are many deals and day-spa packages available depending on the season, so you can combine everything you need to relax and restore.
Fairmont's fitness facilities are also deserving of a mention, with all the space and quality equipment you could need. An experienced team of fitness professionals will guide you through the array of studio classes and personal training sessions available. If you have goals in mind, you can arrange your stay at Fairmont knowing that you will make great strides towards them. All in the comfort of modern luxury and the beautiful open views of the bay.

Returning briefly to castle stays, Glenapp Castle can be found on the South West Coast. Glenapp is a sandstone beauty looking out towards the Islands and the Irish Sea. The hotel has its own spa facilities too, but we'll focus on some of the more unique activities to be enjoyed here.
The Hebridean Sea Safari is a comprehensive boating and glamping experience. Using the hotel's own fleet of boats, you can be brought to the remote edges of the island seascape and spend nights in unique locations. 
Inaccessible to most, these secluded spots are set up ahead of your arrival to be the height of comfort in the wilderness. With a private chef on board the boats and on site at camp, luxurious beds, bathrooms and shelter. All on the fringes of quiet island bays. 
Guides will take you through the incredible wildlife and history of the areas you explore, on your very own sea adventure, or 'Mara cuairt-Dànachd' in Scots Gaelic. Excursions to historic sites and distilleries and more will tailor the experience to your tastes. This extraordinary opportunity offered by Glenapp Castle will allow you to immerse yourself in Scottish culture in a way nothing else could.
As if this wasn't enough, Glenapp has a range of other exciting activities to enjoy on site. Too many to name them all here, but everything from falconry and outdoor sports, to private cooking classes. You can gain access to the best fishing spots, and the kitchen staff will gladly cook your catch for you to dine on it that evening.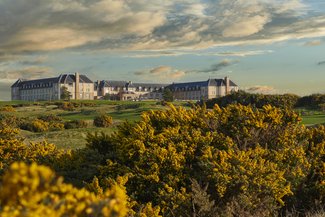 Plan Your Luxury Scottish Hotel Getaway
Although every 5-star hotel in Scotland has its own style, there are certain facilities and services you can expect as standard in all of them. Spa and relaxation spaces are available in most, though different sites will emphasise and specialise in them. 
In each you will find the highest quality service, and a team of professionals who pride themselves on thoughtfully meeting every need and request.
We love our Scottish home, and love our clients to see it at its best. Whichever areas of the country you want to see, and whatever experiences you request to make your dream trip, we'll show you the most outstanding accommodation. We cultivate relationships with these industry-leading hotels to provide insight, personal touches and even discounts. 
There is a whole world of variety to be found in what is offered in Scotland, and so many different things that our clients are looking for when they plan their visit. We think a tour of luxury hotels like these, in all their individuality, is an incredible way to do it.
Why not get in touch with us today? We will get you started on the road to your perfect luxury Scottish journey.