The Argyll Coastal route is a stunning Scottish road trip that hugs the shoreline for 129 miles (208 km) from Tarbert to Fort William. This compact West Highland tour has something for everyone.
Whether you'd like to incorporate this self-drive tour into a longer tour of Scotland, or whether you just have a long weekend for your road trip in Scotland, this itinerary works well on its own or as part of a bigger adventure.
This tour goes past some of the best seafood restaurants and dining experiences in Scotland - highlights are Samphire in Inverary, the Green Shack in Oban and The Pierhouse in Appin. There's also plenty of history - from the old towns of Inverary and Oban to the world-class Neolithic and Bronze Age sites in Kilmartin Glen.
The official route starts at the village of Tarbert, on the banks of Loch Lomond, but most of our guests start a little further south in Glasgow. It continues over the Rest and Be Thankful pass and Loch Fyne to the historic town of Inverary. From there, the itinerary continues to Lochgilphead, where it turns north through Kilmartin Glen towards Oban. From Oban, it follows the shores of Loch Linnhe up to Fort William.
Here at The Tartan Road, we specialise in luxury vacations in Scotland. We offer two services - Tailored and Unique. Our Tailored trips are fully bespoke, and each one showcases the best that Scotland has to offer. The Unique service offers a style of journey experienced by very few. Off-radar experiences which are impossible to replicate and stay with those that take them for the rest of their lives.
Day 1 - Glasgow to Inveraray
You'll spot the mountains as soon as you head out of Glasgow, which are just a little warm-up compared with the scenery to follow!
Take your time on this drive, as it's well worth savouring. You'll follow the shores of Loch Lomond before you reach the village of Tarbet (Tarbert means a narrow strip of land or isthmus in Scots Gaelic - there are at least 14 places called Tarbe(r)t in Scotland!). There are plenty of places to stop for a picnic and admire the views, which we highly recommend. You can call in to visit the village of Luss, with its charming slate and limestone cottages, or any number of the pretty lay-bys and turn-offs that take your fancy.
If you have the time, turn right at Tarbet and take a detour to the dramatic Falls of Falloch (approximately 20 minutes' drive each way). This is especially worthwhile if there has been a lot of rain, as the river turns into a roaring cascade.
After Tarbet, you drive around the end of the aptly-named Loch Long before climbing up into the mountains and reaching the famous Rest and Be Thankful pass. At 803ft above sea level, there is plenty to see from this vantage point. Take a moment to pause here and take in the view - the car park may be busy, but you won't have to walk far to find tranquillity, especially outside the peak summer months.
You'll be able to see the Old Military Road, which was built in 1753 by General Wade to give English troops a quick route into Argyll to prevent any further uprisings after the Jacobite rebellion.
Continuing over the pass, you'll quickly descend into the next valley and find yourself next to the glorious Loch Fyne. Famed for its seafood, this is somewhere to linger if you can. The Loch Fyne Oyster Bar makes for a fabulous lunch spot before you continue on your way.
You'll arrive in the picturesque town of Inveraray on the shores of Loch Fyne, where you'll spend the night. For seafood-lovers, we highly recommend our friends at Samphire restaurant for your evening meal.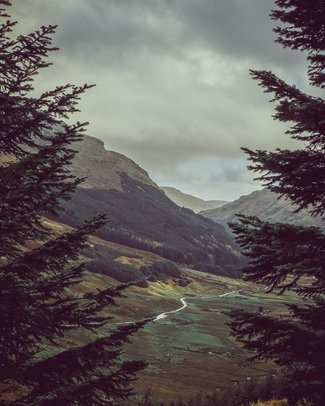 Day 2 - Inveraray to Oban
There is plenty to see and do in Inveraray if you feel like spending a little longer in this beautiful town. A visit to Inveraray Jail provides a fun, informative and immersive experience for the whole family!
Once you set off from Inveraray, you'll follow the shore of Loch Fyne until you reach Lochgilphead. Along the way, you can stop off in the village of Furnace, from which there are a number of excellent walks and you can visit the old iron furnace and gunpowder works if that takes your fancy.
Arriving in Lochgilphead, the gateway to Kintyre, where Loch Fyne meets the open ocean, you'll be blown away yet again by the views stretching out along the Kintyre peninsula, into the Firth of Clyde and out to the mountains on the Isle of Arran.
There are a range of side trip options and detours you can choose to take from Lochgilphead to suit all interests and fitness levels. Why not pay Knapdale forest a visit for the chance to spot beavers? After being hunted to extinction over 400 years ago, beavers were reintroduced in Knapdale forest in 2009, where they're now thriving. You can follow the three-mile Scottish Beaver Trail to look out for signs of the beavers, and if you're very patient - and lucky - you might catch sight of them too!
After Lochgilphead, you'll head north through Kintyre and around the base of Loch Awe. Kilmartin Glen has the most important collection of Neolithic and Bronze Age archaeological remains in mainland Scotland, and you could easily spend half a day or more exploring the standing stones, burials, cairns and the dramatic castle and learning about their history in the museum before refuelling at the cafe.
Another excellent detour involves turning left off the main road at Kilinver, driving over Clachan Bridge - known as "the Bridge Over The Atlantic" as it spans the narrow channel separating the island from the mainland - and onto the stunning Isle of Seil. About 20 minutes each way, the drive takes you down a winding single-track road over the most northerly of the Slate Islands to the village of Ellenabeich. Here, you can visit the magical An Cala gardens, enjoy the views and the wind in your hair on a coastal walk or even take the small ferry hop over to pay the tiny Easdale Island and the Puffer Bar a visit.
However you decide to spend your day, it will end in the west coast hub of Oban, known as the "Gateway to the Isles". If you're heading out to any of the islands on your tour of Scotland, you will more than likely depart from Oban, making this Argyll Coastal Route self-drive tour an easy addition to a longer road trip.
Oban has plenty of bars, restaurants and cafes for you to enjoy your evening meal, and make sure you don't miss the spectacular sunset over the Oban bay and the Isles of Mull and Kerrera.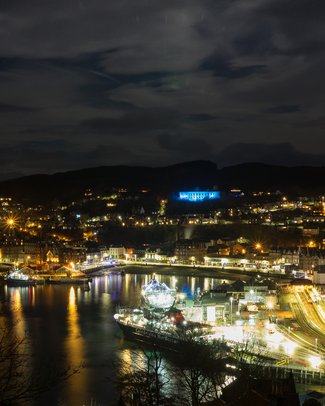 Day 3 - Oban to Fort William
Overnight in:
Fort William
Waking up in Oban is always a pleasure, and you'll find a great deal to see and do before you depart.
Why not climb the iconic McCaig's Tower to enjoy the far-reaching views across the Isle of Mull and Kerrera, or if you're partial to whisky, Distillery tours at Oban run throughout the day and give you a comprehensive overview of the distilling process before allowing you to sample some of their single malts.
Once you manage to tear yourself away from Oban, you'll drive north up the Firth of Lorn, over the striking Connel Bridge and the tidal Falls of Lora - at some times deceptively calm, and at others a frothing torrent of white water racing through the narrows.
A great little side trip is to drive on towards shores of Loch Awe. There are lots of things to do here - it's worth visiting the spectacular ruins of Kilchurn Castle and taking the tour into hydroelectric power station built inside the "hollow mountain", Ben Cruachan.
North of Connel, you head along the shores of Loch Creran. Look out for seals as you follow the winding road into increasingly mountainous surroundings. If you're partial to a gin and have time to call in at Pixel Spirits in Ballachulish, we highly recommend it (they even run private gin-making classes)! A detour to the private Isle of Eriska offers the opportunity for some lovely walks.
From the village of Appin, you can see Castle Stalker, which famously featured in the film Monty Python and the Holy Grail. This is best viewed from the Jubilee Bridge, a short and accessible boardwalk across the tidal sands, a quick and rewarding 5-minute detour from your main route. For lunch, why not try the Pierhouse restaurant in Appin.
After Appin, you'll find yourself alongside the enormous Loch Linhe. As the mountains stretch higher on all sides, you'll really start to feel like you're within touching distance of the UK's highest peak, Ben Nevis.
Once you arrive in Fort William, your options for the evening meal are plentiful and include the Ben Nevis Inn and Crannog Seafood.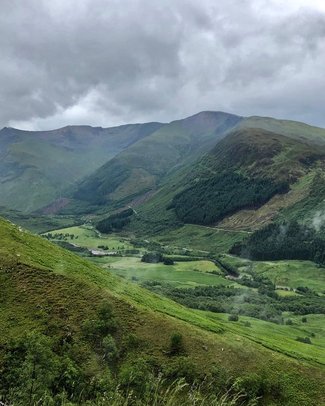 Day 4 - Fort William to Glasgow
Today you head back to Glasgow, but your trip certainly isn't over yet!
If you wish, stay an extra night in Fort William and head up Ben Nevis or do any of the other excellent mountain walks accessed from the area. The beauty of a self-drive trip is that you can go anywhere you want at your own pace, so make the most of this opportunity to explore from one of the best outdoor activity hubs in the world.
When you're ready to head back, you'll drive south through the famous valley of Glen Coe and yet more incredible mountainous scenery. Bridge of Orchy, Tyndrum or Crianlarich are good options for lunch - we particularly love the Real Food Cafe in Tyndrum (we think they make the best fish & chips in the country!).
Eventually, you find yourself back alongside Loch Lomond, where a different route along its shores ensures you get to see it with fresh eyes. If you didn't manage to see the Falls of Falloch on your way down, why not pay it a visit now?
Finally, follow the Clyde back into Glasgow and enjoy the rest of your adventure! If this is where you get off, then we'll see you next time.