The west coast and islands of Scotland are home to some very special dining options for foodies. There are a lot of great restaurants, and this area is particularly famous for its seafood - often caught fresh the same day by boats you can see from your accommodation.
Some exciting new ventures offer their lucky guests much more than a meal - here are our favourite luxury dining experiences on the west coast and islands of Scotland.
Here at The Tartan Road, we design bespoke luxury holidays in Scotland. We're passionate about this small country, and we think it's one of the best places in the world to go on vacation.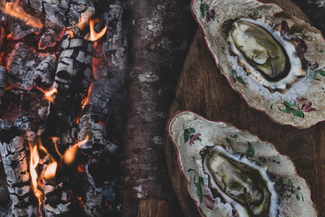 Paul Little Photography
Wild Kabn Kitchen at Ardkinglas Estate
Wild Kabn Kitchen is an exciting new luxury dining experience located at the beautiful Ardkinglas Estate by Loch Fyne.
Chef William Hamer brings his endless creativity and extensive cooking experience in the UK and overseas, including time spent working at the incredible two Michelin Star restaurant Hiša Franko in Slovenia. His food gets people excited and his commitment to using the finest local produce is inspiring.
There's no better location than Ardkinglas to enjoy some beautiful local food cooked over a fire and soak up your surroundings. This dining experience is truly something you'll never have seen before - it's fine dining, but with the unique flavour and special magic that comes from being cooked over a flame.
Chef William meets guests by the loch and offers them a chance to explore the beautiful gardens of the Estate before settling down for a delicious multi-course dinner. You can choose to watch William at work and see your dinner go from raw ingredients to incredible fine dining, or you can dine in privacy and just enjoy the end result of his endeavours.
Wild Kabn Kitchen runs a Supper Club most Saturday evenings, with tickets released a couple of months ahead of time. We can also arrange bespoke private dining experiences for couples and small groups, with several venue options on the site making it possible to adapt to different group sizes, abilities and the infamous Scottish weather.
Most dietary requirements can be accommodated with advance warning.
The Table at No. 26 by the Sea
Oban's best boutique hotel, No. 26 By the Sea, has just introduced a wonderful 'Chef's Table' dining experience for a select group of hotel guests and other visitors each evening. Welcome to The Table at No. 26.
The hotel is in a beautiful position on the Corran Esplanade with views out to the harbour and the Isle of Kerrera. If you're not staying there, you'll certainly wish you were when you see its location!
You'll be welcomed into the dining room with a glass of fizz and settle down with a maximum of 5 other people (the table seats 6 in total) for a memorable evening with some of the best food and wine you'll encounter in Scotland.
Chef David Anderson prepares a menu showcasing the fresh seafood for which the west coast is particularly known, and other local highlights such as venison. This is an innovative menu firmly rooted in place and the evening feels like a celebration of food in Argyll. There's a great wine list as well.
Guests will be able to watch David cook each course and also get to know each other as they enjoy each stage of the meal together. This is a fun, social way to spend an evening, but above all it's a culinary triumph and an excellent addition to the foodie scene in the region.
Gluten free diets can be accommodated with notice. Please ask if you have other dietary requirements and they will do their best.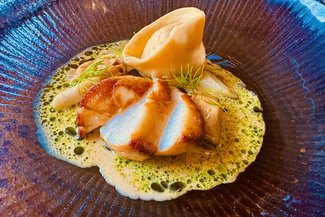 The Table No. 26
The seafood platter at Glenegedale House, Islay
Arriving at Glenegedale House, Islay's exclusive 5* Gold B&B, feels like coming home.
You'll walk into the comfortable sitting room and be welcomed by hosts Emma and Graeme, whose hospitality is second to none. This small but perfectly-formed Bed & Breakfast is the accommodation highlight of the Isle of Islay, in our opinion.
In the dining room, you'll be settled at a table with views out to the airport and to the beach and sea beyond. This is one of the best places on the island to watch the sunset in spring and summer, and in autumn and winter guests have even been known to spot the Aurora Borealis (Northern Lights) dancing during their meal.
Glenegedale House offers guests a three-course evening meal each evening, with a menu using the freshest of local ingredients combined using the hosts' skill, sensitivity and passion for fine food to make absolutely delicious meals.
The highlight of their menu, though, is the now-famous seafood platter, which Emma puts together using the fresh catch of a number of different local fisherfolk. The fish is caught in the island's waters first thing in the morning, hand-delivered to the B&B by the early afternoon, lovingly prepared and presented on a platter for dinner. The spread is an absolutely stunning one - it varies according to season and availability, but you can expect scallops, crab, lobster, salmon and much, much more, all beautifully presented alongside fresh bread, salad and slices of lemon. This is one of the most memorable meals we've ever experienced in Scotland, and it could not be more fresh or more local.
Usually, dining at Glenegedale is available to residents only, but sometimes they host an Islay Supper Club event, and on rare occasions they can accommodate non-residents with prior notice. We highly recommend a stay here (their breakfast is absolutely amazing...), but you'll need to be quick as they've only got 4 rooms!
The platters and main courses can be adapted to most dietary requirements on request and with prior notice.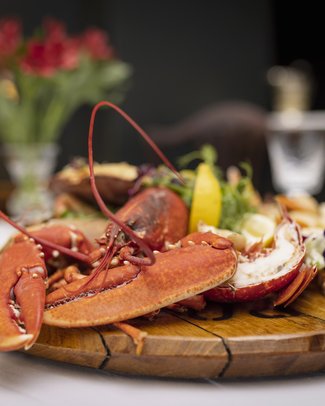 VisitScotland / Kenny Lam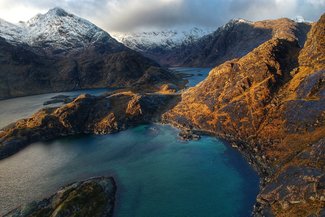 The Kitchen Table at Three Chimneys
The journey to get to the tucked-away location of the Isle of Skye's exclusive Three Chimneys is a challenge for some, but more than worth it when you arrive!
The restaurant is undoubtedly the best on an island which punches well above its weight in terms of food and dining experiences. The highlight is The Kitchen Table, a communal dining experience for a maximum of 8 guests.
You'll get to enjoy a 6- or 7-course tasting menu showcasing the finest ingredients from the Isle of Skye and the surrounding area whilst chatting with like-minded foodies and watching the incredible kitchen team at work.
If you'd like to stay over after your meal, we can't recommend it highly enough - but you'll have to be quick as there are only 6 bedrooms, so it's just a lucky few who will stay the night here.
The Three Chimneys team regrets that dietary requirements cannot be accommodated at the Kitchen Table, however the main restaurant is able to cater to most diets with prior notice.