Driving in Scotland is great! We love self-drive Scottish holidays because of the flexibility - you can travel at your own pace, stop when you want to and take whatever route and breaks work for you.
Scotland is a pretty safe place to drive. In a 2020 survey of 44 developed countries, it ranked 11th - just ahead of Japan and Denmark.
Scotland has a reputation for difficult driving, but that really needn't be the case. Driving in Scotland takes you through some of the most breathtaking scenery in the world and it's really an experience to be savoured. Armed with the right information, you will be able to enjoy your road trip of Scotland safely.
Here are some hints to help you have the best experience on Scotland's scenic driving routes as you enjoy your self-drive tour. You may also find this page and video from Visit Scotland helpful, especially if you need to check your eligibility to drive or hire a car in Scotland.
Driving in Scotland in winter requires a few additional preparations and considerations - see our handy guide on tips for driving in Scotland in winter.
Here at The Tartan Road, we design bespoke luxury holidays in Scotland. We're passionate about this small country, and we think it's one of the best places in the world to go on vacation.
Driving in Scotland as an American is pretty straightforward. The roads are all about the same speeds you're used to and, of course, all the signs are in English!
If you've driven in the mountains before, you'll know exactly what to expect when driving in the countryside here - but if you only ever drive in cities or on the freeway, then you might be surprised at how narrow and winding our roads can be.
The biggest difference is, of course, that everyone in Scotland drives on the left-hand side of the road - but if you've got a local car, the wheel will be on the other side as well, and it all feels natural. Another difference is that we have quite a lot of roundabouts.
Your US driving license is valid in Scotland - you don't need to do anything special to be allowed to drive here. For our American guests, we recommend hiring a vehicle with an automatic transmission. Unless you're very comfortable with driving a manual transmission in cities and mountains, it can be a real challenge over here.
Finally, none of our cities are in a grid layout. You might think this makes navigating difficult, but follow your sat-nav, and you'll be fine!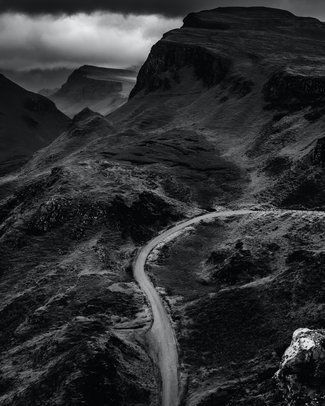 Don't be afraid of single-track roads
If you're not used to driving in Scotland, you might find the idea of single-track roads daunting, but don't despair! Some of the most incredible places to visit on your self-drive tour of Scotland are reached by single-track road, and on the islands these types of road are especially common.
Top tips:
1) Pull over if you're going more slowly than the people behind you.
It might seem crazy, but not everyone is driving to enjoy the scenery! It's really important that you drive at a speed you are comfortable with, but don't be surprised if this speed doesn't work for everyone.
It's essential to keep below the speed limit, of course, but it's also courteous not to hold up others by going more slowly than you need to. Try to remain aware of who is behind you, and if you notice a queue building up or a big difference in speed, please pull in safely in the passing places provided to let people overtake you.
If you decide to stop and take photos (we don't blame you, it's stunning!), please ensure you have pulled over completely and are not blocking the road.
2) Always keep to the left.
Whilst single-track roads will not have markings in the middle to show you which lane is which, you still need to remember to drive on the left and make sure you stay to the left of the track where possible, especially around bends.
3) Approach blind hills and bends with caution.
On many single-track roads, there isn't space to pass someone head-on, so bear this in mind when you can't see far ahead. Slow down well in advance of hills and blind bends so that you have time to think ahead and see other road users approaching.
Drive at the correct speed
Breaking the speed limit is illegal in Scotland and this is regularly enforced. Make sure you stay safe and avoid any trouble by always knowing and staying within the speed limit for the road you are on.
Speed limit signposts
Many of Scotland's roads have a speed limit sign posted - if so, this will be shown at regular intervals by a number with black lettering on a white background in the centre of a red circle. Even if this limit differs from the national norm for the type of road you're on, the signposted speed limit shown takes precedence.
Temporary speed limits
Look out for temporary speed limits, such as those surrounding areas of roadworks or imposed due to heavy traffic on the motorway. These will either be shown on temporary signs placed at the side of the road, or (motorways only) on illuminated boards above the motorway lanes. Again, these will be white and red in colour and will be shown at regular intervals.
National speed limit
If there is no temporary or permanent speed limit signposted, the following national speed limits apply. These depend on the type of road you are driving on.
Motorways - 70mph for cars; 60mph for those towing caravans or trailers. Motorways have blue and white signage and often three or more lanes in each direction.
Dual carriageways - 70mph for cars; 60mph for those towing caravans or trailers. Dual carriageways have green and white signage and usually two lanes in each direction.
Single carriageways and other roads outside built-up areas - 60mph. Note, though, that this is an absolute maximum. On country roads, and especially on single-track roads with lots of bends, it is rarely safe to drive as fast as this.
Towns, residential areas or other built-up areas - 30mph. Around schools or residential areas, you may find lower limits (eg 20mph) signposted and/or traffic calming measures such as speed bumps which mean you need to travel a lot slower than 30mph.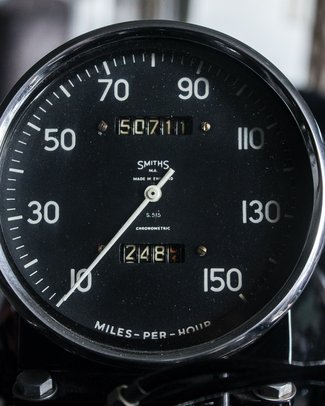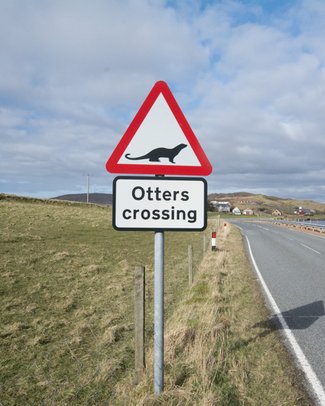 Emily Woolard
One of the most wonderful things about Scotland is its wildlife. This is no less true when you are on a driving holiday, but the abundance of animals and birds does present an extra hazard for those embarking on a Scottish road trip.
Farm animals and other livestock
Sheep and cows often graze freely beside the road, and you may well encounter them on the road as well. Always travel at a safe speed and be prepared to stop as you go around corners or up hills where you can't see very far ahead. Note that with herds or flocks of cattle or sheep, it's very common for more animals to follow if one of them crosses the road - lambs will almost always cross the road to follow their mother, for example, so don't assume that because only one has crossed, the others will stay put.
You may find - especially on low-traffic roads - that the animals have made themselves especially comfortable on the road, perhaps even lying down. If this happens, you should slow to a crawl well in advance and approach with care. This is normally enough to encourage the animals to move on, but if they are particularly stubborn you may just have to stop and wait. Noisily revving of your engine or over-use of the horn can cause unnecessary stress to animals and may even provoke aggression, which could result in damage to your car. The best advice we can give is to be patient and try to see the funny side! It's always an entertaining and quintessentially Scottish experience to encounter a roadblock of hairy cows, and you'll be able to take some wonderful photos as you wait for them to move out of your way.
Wild animals
Deer and other wild animals are unfortunately regularly involved in accidents on Scotland's roads. They often cross over or stray into the road, and this is more common in very rural or low-traffic areas.
You can reduce the likelihood of being involved in a collision by keeping your speed slow and safe, giving yourself plenty of space to stop, and by using your lights correctly at night. Expect the unexpected!
Birds
Normally you won't encounter birds on the road, but if you are in a quiet area or if there is something tasty on the road (an unfortunate rabbit or deer, perhaps), you may find that birds of prey can't resist taking a rest or having a snack on the road.
Just because birds can fly doesn't mean that they will, so give them space to move on. Again, your best chance of avoiding causing injury or death to a bird is to ensure you always drive at a safe speed with plenty of time to stop.
Be aware of other road users
Whilst you may be one of many people enjoying a road trip in Scotland, remember that cars are not the only users of the road. You may come across cyclists, horse-riders, runners or hikers on the road.
Be prepared to meet lots of different types of road users going at different speeds to you, and please remember that even though the road may be narrow in places, if overtaking you still need to pass them with plenty of space. If someone is coming the other way, stop and wait until you can pass them safely.
Please keep in mind that some types of road user will make less noise than a car, so you may not always hear them coming.
Keep an eye on the weather
Many of Scotland's roads can be affected by poor weather conditions, so always check the forecast before you drive.
On high ground, snow or ice can occur at almost any time of year. Surfaces can become slippery or waterlogged if there is a lot of rain, and in extreme cases, there can be large areas of standing water or debris from landslides partially obstructing the road. Fog is common all year round from sea level up into the mountains, and can severely restrict your visibility.
Always drive to the conditions and make sure you are going slowly enough that you can stop safely if you encounter difficult conditions, visibility or obstacles on the road in front of you.
We recommend checking Traffic Scotland for trunk road conditions, roadworks and closures before you set off on your Scottish road trip. Scotland's road gritters all have wonderful names which will keep you entertained! Keep a lookout for Sir Andy Flurry and Gritty Gritty Bang Bang when driving in winter.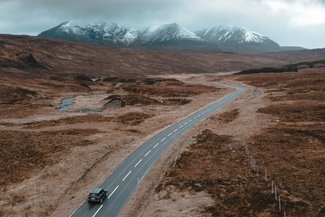 Unsplash / Sven Vee
We're confident you will have a wonderful time driving in Scotland!
Remember:
Always keep within the legal speed limit
Drive at a safe speed, not at the top legal speed - adjust your speed to the road type and conditions
Drive on the left
Watch out for other road users and wildlife
Check the weather before you depart
Have fun and enjoy all that Scotland's roads have to offer on your self-drive tour!