We specialise in luxury holidays in Scotland, and staying in a castle is one of our favourite ways to experience this beautiful country.
Scottish castles have been a holiday destination ever since Queen Victoria built her highland escape at Balmoral.
Immerse yourself in the rich history, breathtaking landscapes, and luxurious accommodations that await you in these magnificent Scottish castles. Whether you are a history enthusiast, a romantic adventurer, or simply seeking a unique getaway, staying in a castle provides an unparalleled experience that will leave you with cherished memories.
We are your gateway to discovering the top castles to stay in Scotland. We have carefully curated a selection of castles that offer exceptional experiences, from the iconic and storied to the hidden gems waiting to be discovered. Whether you seek a romantic escape, a family adventure, or a luxurious getaway, we have the perfect castle stay for you.
Embark on a journey through Scotland's captivating history, immerse yourself in its breathtaking landscapes, and create memories that will last a lifetime. Join us as we explore the castles to stay in Scotland and unlock the magic that awaits within their walls.
Here at The Tartan Road, we design bespoke luxury holidays in Scotland. We're passionate about this small country, and we think it's one of the best places in the world to go on vacation.
Why stay in a castle in Scotland?
Scotland's castles hold an undeniable charm, transporting you back in time with their architectural grandeur and fascinating stories. From towering fortresses to elegant manor houses, each castle offers a glimpse into Scotland's captivating past. These castles have been lovingly restored and transformed into exceptional accommodations, blending the old-world charm with modern comforts and amenities.
Beyond the historical allure, staying in a castle in Scotland offers an experience like no other. Imagine waking up to breathtaking views of rolling hills, serene lochs, or rugged coastlines. The picturesque settings of these castles provide a peaceful retreat where you can truly disconnect from the stresses of everyday life.
Indulge in luxurious accommodations fit for royalty, with opulent rooms adorned with antique furnishings, plush fabrics, and elegant décor. Immerse yourself in the world of lords and ladies as you explore the castle's hidden corners, uncovering secret passages, grand ballrooms, and impressive libraries. Enjoy personalized service and attention to detail, with staff dedicated to ensuring your stay is nothing short of extraordinary.
Additionally, staying in a castle allows you to take advantage of the surrounding landscapes and outdoor activities. Embark on scenic hikes through rolling hills, tee off at world-class golf courses, or explore nearby attractions steeped in history and natural beauty. With castles located across Scotland, you can choose between breathtaking coastal locations, secluded countryside retreats, or castles nestled in the heart of bustling cities.
Top Castles to Stay in Scotland
Here are our favourite castle stays in Scotland. They range from luxury 5-star hotels and exclusive-use properties to boutique hotels and restaurants with rooms. Some are deep in the remote countryside, and some are on the edges of cities.
We're sure you'll find something inspiring - and get in touch if you want to book any.
Barcaldine Castle, on the shores of Loch Creran in Argyll, is a historic treasure that offers a truly unique castle stay experience. With a rich heritage dating back to the 16th century, this enchanting castle has been lovingly restored to its former glory, preserving its authentic charm while providing modern comforts. This romantic tower house offers Luxury Bed and Breakfast accommodation, as well as the option of exclusive use.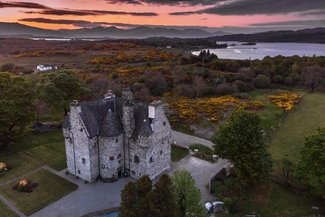 A baronial mansion dating back to 1865, Blackcraig Castle lies in the glen of Strathardle. A little further north is Royal Deeside, where Queen Victoria and Prince Albert built Balmoral, their baronial summer home, and where frequent visitors to picturesque Strathardle. This private exclusive-use castle is in the perfect location for exploring the Cairngorms and Highland Perthshire, as well as for traditional country sports like fishing, hunting and golf.
Tips for choosing the perfect castle stay
Always stay for a few nights - you need time to relax and enjoy the ambience
There are choices for every budget - just choose what works for you
Accessibility can be a challenge - if you have specific requirements, it's always best to ask rather than rely on pictures online
Availability is always restricted, especially at short notice - book at least 6 months in advance to be sure of getting the best rooms!
If in doubt, just contact us, and we'll help you out - as you can probably tell, we're quite passionate about castle holidays